North Korean leader Kim Jong-Il has fresh questions to answer about his nuclear program, according to the Institute for Science and International Security, a respected Washington, DC think tank.
ISIS has published satellite photos of the Yongbyon nuclear site, showing buildings that have been constructed or renovated since April 2009. That is the date when Kim evicted weapons inspectors and American experts who were overseeing the disabling of North Korea's nuclear weapons program in accordance with a 2007 agreement.
Given the timing and the location, the construction at Yongbyon "raises suspicions" that the buildings could support the country's gas centrifuge program or other aspects of uranium enrichment, according to Paul Brannan, a senior research analyst at ISIS and an expert in interpreting satellite imagery of nuclear programs.
Specifically, the construction could provide evidence that the hermit nation is seeking to expand its nuclear program.
Mastering gas centrifuge technology is the key step for any country developing nuclear arsenals. "We call it the long poll in the tent," Brannan said. "It's the most important part of making a nuclear weapon."
In late 2010, North Korea shocked non-proliferation experts by revealing the existence of a building at Yongbyon containing 2,000 gas centrifuges. These were shown to Dr. Siegfried Hecker of Stanford University. His North Korean hosts told him that they were producing low enriched uranium as fuel for a new light water nuclear reactor to generate electricity.
However the same centrifuges could produce highly enriched uranium, one of two materials that can be used in nuclear bombs. Highly enriched uranium is the material of choice for countries clandestinely evading their obligations under the nuclear Non-Proliferation Treaty.
The other option for a nuclear weapon, plutonium, can be detected from far via sensors that detect krypton-85, a signature isotope emitted as a byproduct of production. The international community has placed such sensors along North Korea's borders. In contrast, it's very difficult to remotely detect production of highly enriched uranium.
So while it's not clear what kind of activities are taking place in the newly constructed and refurbished buildings at Yongbyon, ISIS contends the international community should request more information.
"It's an unsafeguarded program. It's an unsafeguarded plant. It wasn't declared to the International Atomic Energy Agency," which oversees non-proliferation compliance, said Brannan. "North Korea really should communicate what the purpose of these buildings are," he said.
It's unclear whether North Korea is capable of effectively delivering a nuclear weapon. It is believed to have enough material stockpiled to make several bombs. Kim Jong-il has been accused of using the nuke program to practice "extortion diplomacy," in which he demands goods from rich nations in return for limiting his weapons aspirations. 
Dr. Hecker, the Stanford expert, indicated that ISIS's analysis of the new buildings at Yongbyon was "generally on the mark." In an email to GlobalPost, he wrote, "The photos demonstrate that there is lots of activity at the Yongbyon nuclear facilities."
He added, "since the Democratic People's Republic of Korea has withdrawn from all diplomatic efforts and from the Non-Proliferation Treaty, I would not expect them to volunteer any information about Yongbyon construction. Since all of these activities are contrary to United Nations Security Council resolutions, they would not be inclined to do so, unless diplomacy was restarted and [North Korea] believed it could gain something from specific disclosures."
Scroll down for a sampling of the satellite images of Yongbyon that ISIS used in its analysis.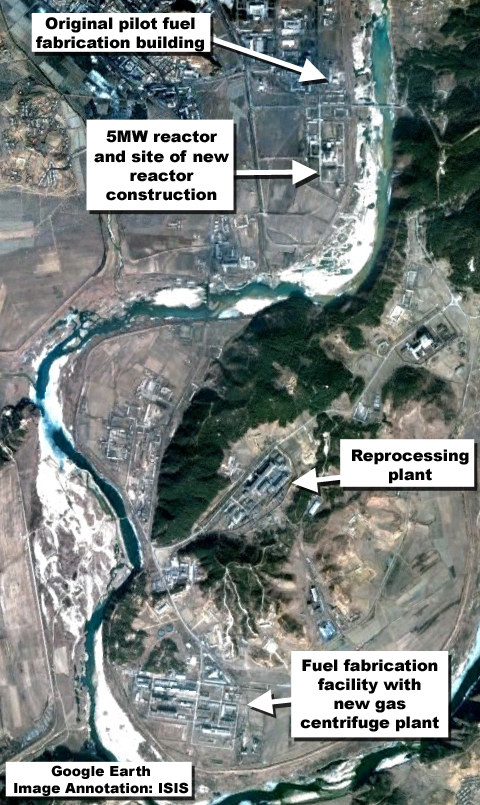 This image shows an overview of North Korea's Yongbyon nuclear site. The image shows about two miles from top to bottom. In the past, the 5 MW reactor and reprocessing plant were used to produce plutonium for bombs, but they were disabled in accordance with a 2007 international agreement. These days, a new light-water reactor is being constructed at the site of the 5 MW reactor. (All images courtesy of ISIS.)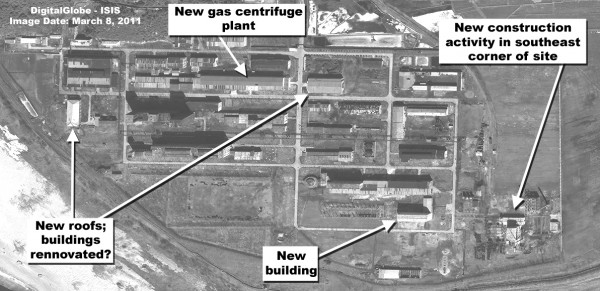 This is a closer image of Yongbyon's Fuel Fabrication Facility, on March 8, 2011. North Korea alleges that the centrifuges in this facility are producing fuel for the new light-water reactor, but experts fear they could also be used to make highly enriched uranium for nuclear weapons.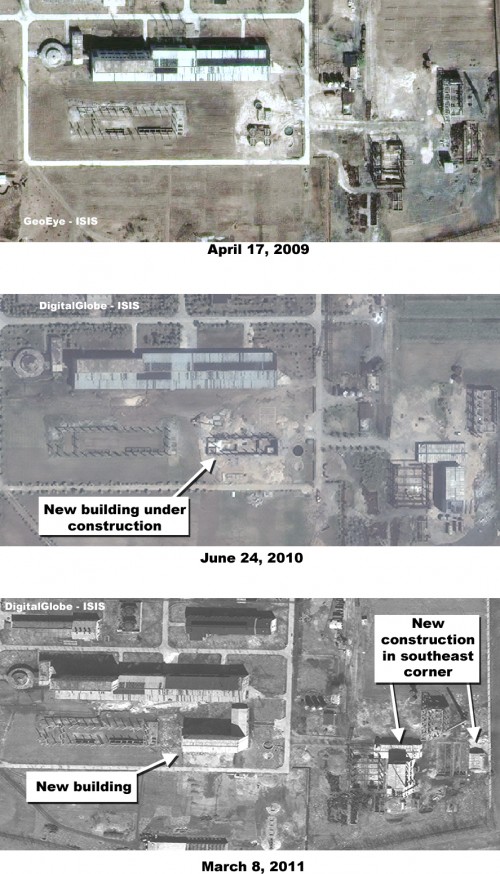 These final images detail the construction in one area of the site, between April 2009, when Kim Jong-il ejected international inspectors, and March of this year. 
More images are available on ISIS's web site.
Follow author David Case on Twitter @DavidCaseReport.